OH LA LA GLAMOUR GIRLS One Girl Specials
All titles are £6.99 each UNLESS OTHERWISE STATED. Freddie McQueen titles are all £10.99 each. Some of the specials are as little as £2.99. If you buy 5 or more @£6.99 or spend £34.95 (UK) or £39.90 (Europe ) or
£49.90 (Rest of The World) or more there will be no postage and this ALSO APPLIES to Freddie McQueen's collection. Simply click add to cart for any title you want and when you have finished click on Post Page and add the relative button to add postage. As soon as payment is received the items will normally be posted within 24 hours, 48 hours if we are busy. Obviously orders received on Saturday or Sunday will be posted on Monday.
Looking forward to hearing from you. Happy viewing, Dave E
Download versions now available. Just £6.00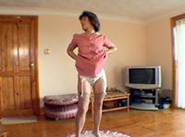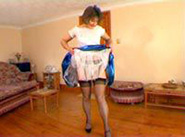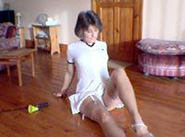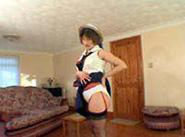 001 ANNA - BOB'S NAUGHTY NEIGHBOUR.

Anna had promised her randy neighbour a real good show as a favour she owed him. Left to right

1.Anna's New Work Smock

is very short and Anna soon makes it even shorter

2.Cocktails and Petticoats

as Anna dresses as a maid.


3.Badminton Babe

sees Anna in a short tennis skirt

4.St.Trinian's Skirt Up

needs no more explanation.

---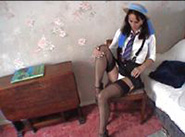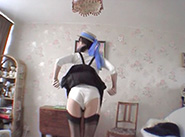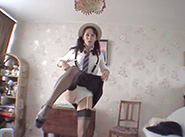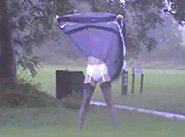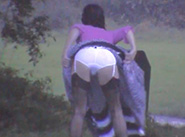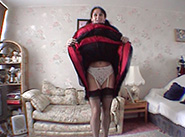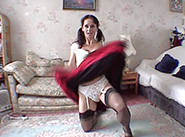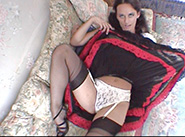 002 DIANA - DYNAMITE.

Left to right

1.Dreams Of My Schooldays

x 3 as Diana remenisces about the she had as a schoolgirl and even does an impromptu cancan

2.Rainy Days - Crazy Ways

x 2 sees Diana caught in the rain on a visit to Carsington reservoir

3.French Maid

- Diana dresses up in her maid outfit and gets herself in a tangle with the vacuum cleaner. She then discards it and does another impromptu cancan.


---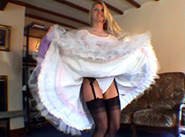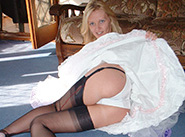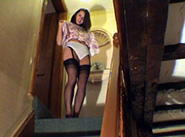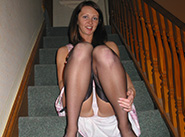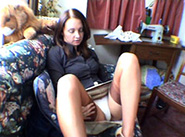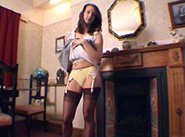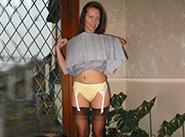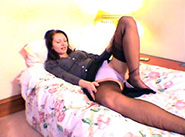 003 ABI - ADORABLE

.

1.Lounging Around

x 2 raising her purple gingham skirt

2.Pink To Make The Boys Wink

x 2 which she does on the stairs

3.Millie's Little Helper

as she hets busy with the sewing

4.Look Closely

and you will see generous views of Abi's lemon coloured panties

5.In The Boss's House

high jinks in the bedroom as the skirts go up.


---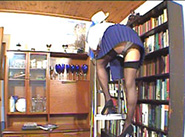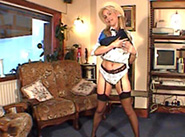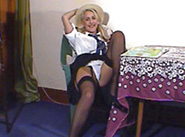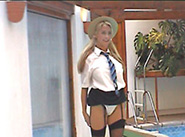 004 WENDY JAYNE - BACK IN THE OLD DAYS.

1.Sexy In The Study

Wendy Jayne is looking for a book and is well aware that someone else is looking too

2.Cheeky Chess Game

she loves chess but also loves to show her knickers. She tries to beat her tutor by distracting him

3.A Private Panty Parade

WJ's dad has paid her tutor for extra lessons, but she turns it into a private panty show. Extra curricular activity at it's best.

4.Naughty Knicker Show

WJ was caught trespassing. The landlord agrees not to prosecute her but only if she shows him her knickers. No problem for Wendy, she loves to show them.

---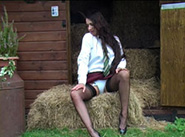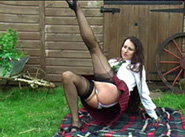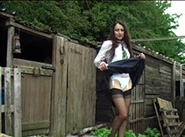 005 SUSANNA - COLLEGE GIRL CAPERS.

1.Gambolling At Greenacre

Susanna loved Greenacre Farm. When she was younger she was always gambolling over the fields.There were lots of dens, gates to climb and bridges to skip over. So when she returned for a nostalgicshe was surprised to be confronted by the landowner.

2.Leggy Workout

Susanna likes to keep fit so she decided to do a workout in her college uniform, much to the delight of her neighbour who was treated to a very nice show of her legs and undies

3.Barn Dance

Country girl Susanna knew all the secret places to go and have some fun without being disturbed. So when her neighbour was recovering from illness, she invited him down to the barns for a private show. Skirts up with knickers, stockings and suspenders all the way.

---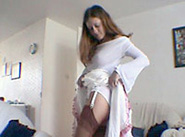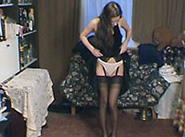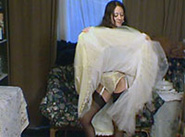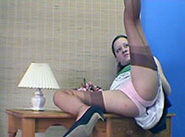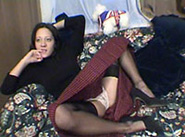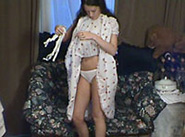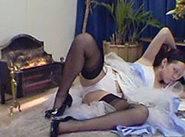 006 RACHEL'S PANTY PARADE. Lots of stockings, suspenders & fun with upskirts, skirts up, frills, knickers and legs in the air. Left to right

1.Thrills For Me, Thrills For You

in a long bridal style dress reveals lots of underwear and stockings

2.Tight & White

- Tight dress and tight white knickers show all the contours

3.Cancan Cameo

-All the skirt waving without the high kicks

4.Sitting Pretty

Rachel perched on a desk style dressing table is a treat. The camera spends a lot of time actually up her skirt.-

5.A Frumpy Skirt

maybe, but certainly not frumpy behaviour-

6.Strawberries & Stockings

Rachel slips into black stockings

7.Fireside Frills.

Rachel lays down by the fire and the hotter it gets the higher her skirt goes. Yummy!

---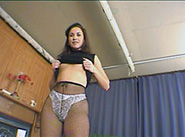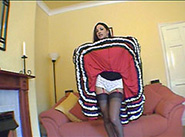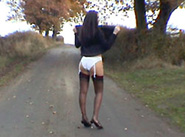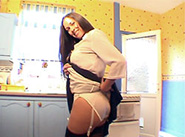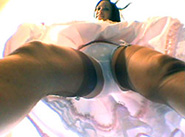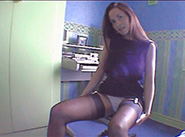 007 CHARLIE - NAUGHTY BUT NICEThis fabulous young lady sets temperatures rising with some wonderful exhibitions of upskirts and skirt raising as she flashes her panties as often as possible. Left to right 1.Fishnets & Thong. Mostlyindoors Charlie aquaints us with her tights and white thong knickers. 2.Red Cancan Skirt - Skirt aptly raised as it should be 3.Pleats In The Street - Actually filmed in the coutryside Charlie does not disappoint the skirts up fans. 4.College Days. In her kitchen she gets naughty in her college girl uniform
5.In The Pink. Some lovely upskirt views as Charlie frolics in her kichen in a pink flared skirt with petticoat. 6.Ever So Naughty. In a short dress in her office her granny would not approve of what she gets up to.

---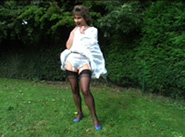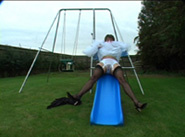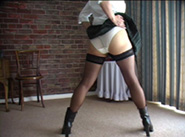 008 ANNA - NAUGHTY AS EVER Left to right

Scene 1.

In a full circle skirt with petticoat Anna makes sure it is up more than it is down

Scene 2.

Anna is playing around in a skirt that doesn't fit the petticoat but she looks good on the slide

Scene 3.

In a pleated skirt Anna moves indoors for all the usual shenanigans.


---