OH LA LA GLAMOUR GIRLS DVD Nos. 1 - 20 (All movies 60 mins approx)
All titles are £6.99 each UNLESS OTHERWISE STATED. Freddie McQueen titles are all £10.99 each. Some of the specials are as little as £2.99. If you buy 5 or more @£6.99 or spend £34.95 (UK) or £39.90 (Europe ) or
£49.90 (Rest of The World) or more there will be no postage and this ALSO APPLIES to Freddie McQueen's collection. Simply click add to cart for any title you want and when you have finished click on Post Page and add the relative button to add postage. As soon as payment is received the items will normally be posted within 24 hours, 48 hours if we are busy. Obviously orders received on Saturday or Sunday will be posted on Monday.
Looking forward to hearing from you. Happy viewing, Dave E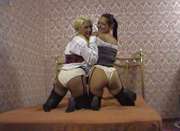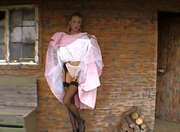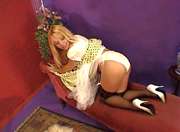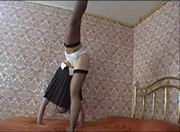 DVD No.1. Left to right Wendy Jayne & Sammi, Sarah Louise, Lucy & Jessie. This was the first Oh La La movie ever made,
back in 2002 but surprisingly good considering it's age.
---
---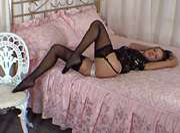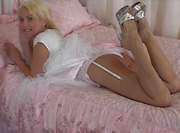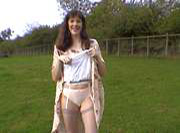 DVD No.3. 2002. Left to right Sammi, Wendy Jayne & Melody. Great movie with 3 long sequences.
---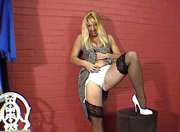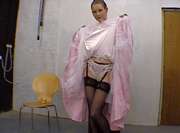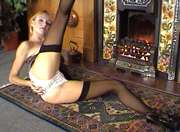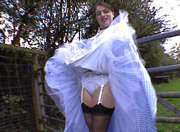 DVD No.4. 2002. Left to right Lucy, Jessie, Sarah Louise & Susanna. Another of Susanna's farm sequences is especially nice.
---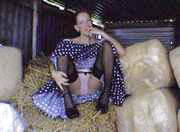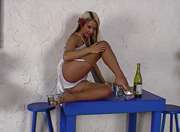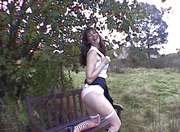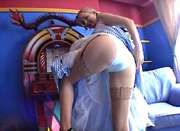 DVD No.5. 2002. Left to right Sammi, Wendy Jayne, Melody & Chanta Rose. Roll in the hay with Sammi orsit at WJ's table and sample the delights.
---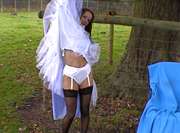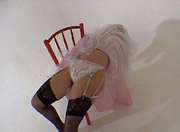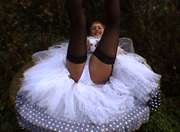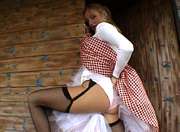 DVD No.6. The Petticoat Special No.1. 2002. Left to right Sammi, Lucy, Wendy Jayne & Sarah Louise. Sammi holds her skirts high on the farm, Lucy performs on a chair, Wendy Jayne dances over the camera on a bird table and Sarah Louise is flashing her knickers outside the ranch.
---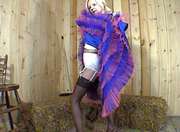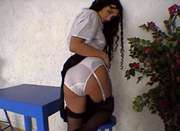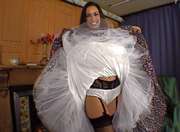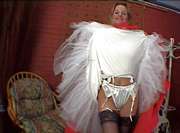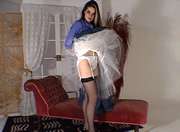 DVD No.7. 2002. Left to right Bridie, Robyn, Charlie, Sarah & Raquel. 5 debutates with Charlie particularly impressive.

---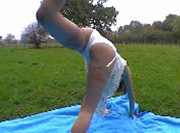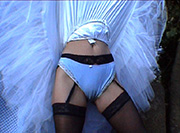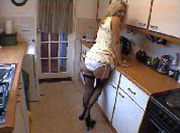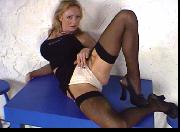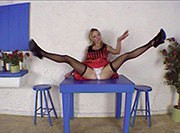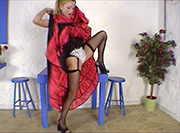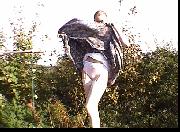 DVD No.8. 2002. Left to right Sammi, Wendy Jayne, Sandy, Sara Louise x 3 & Jessie. Sexy stuff from Sammi, classic skirt raising from WJ and great table top cancan from Sarah Louise and also in a black dress in the same location. Sandy sizzles in the kitchen, Jessie on the rockery.
---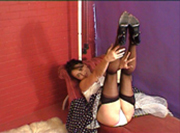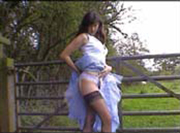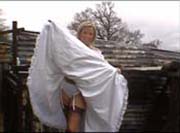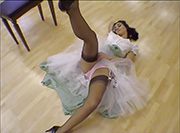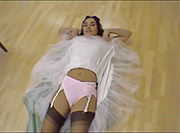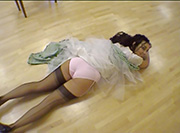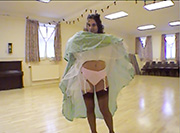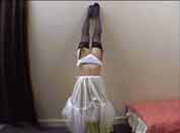 DVD No.9. The Petticoat Special No.2. 2002. Left to right Susanna in her studio wearing a polkadot skirt, Melody and then Kirsty at the
farm, Robyn x 4 at the village hall and finally Jessie in a short sequence including handstands.

---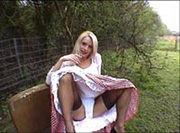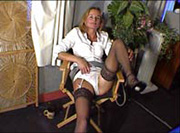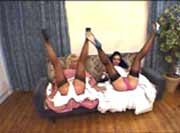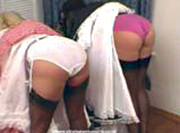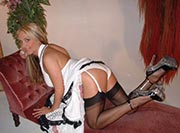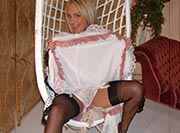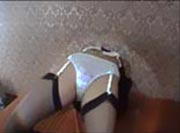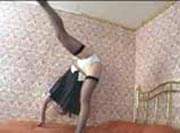 DVD No.10. 2003. Left to right Stephanie on the farm in red gingham, Sarah in the studio in straight grey skirt, Chantelle & Robyn x 3 messing aound in frilly skirts with handstands, Wendy Jayne x 2 on a chaise longue and finally Jessie x2 on a bed performing acrobatics.
Very fruity.
---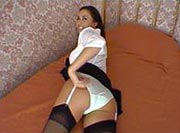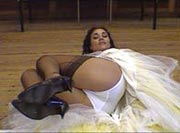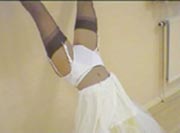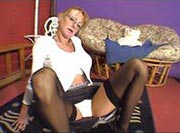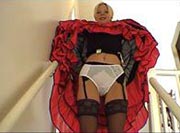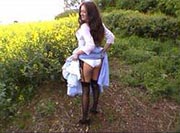 DVD No.11. 2003. Left to right Charlie on an old bed, Robyn x 2 in the village hall in petticoats with handstands, Sarah Louise in tight office
skirt on a sofa/carpet, Bridie in a cancan skirt on the stairs and Rachel out in the fields in petticoats.

---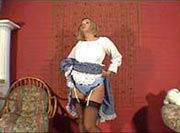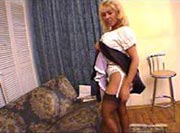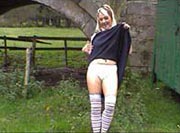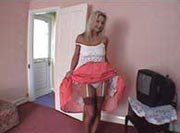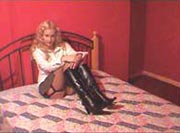 DVD No.12. 2003. Left to right Kirsty in flared skirts & petticoat, Chantelle sexy in French Maid costume, Wendy Jayne in long stockings
with hoops messing around down by the river, Sandy in a hooped petticoat and Cat ina short skirt on a bed.

---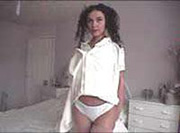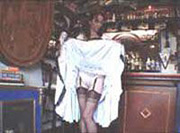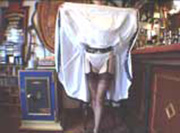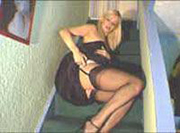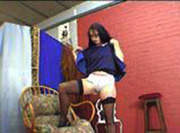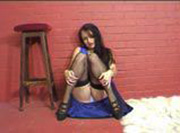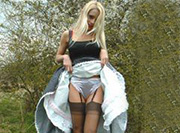 DVD No.13. 2003. Left to right Robyn pins her dress up, Diana at the bar x 2, Angelica skirts up on the stairs, Susanna x 2 flashing her
knickers in the studio and finally, the fabulous Stephanie strolling around the countryside with skirt held high.

---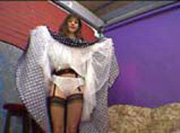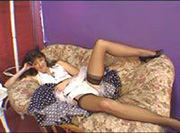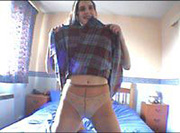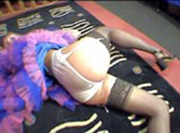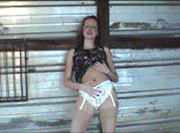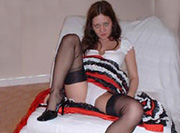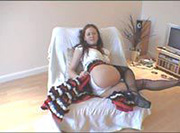 DVD No.14. 2003. Left to right Melody's long legs and white knickers x 2, Raquel kilted in pantyhose, Sarah x 2 on the carpet and chair in
an authentic cancan skirt, Sammi super sexy in a barn and Rachel x 2 in her flat raising her colourful cancan skirt.

---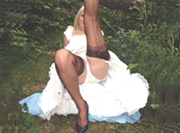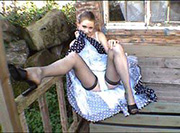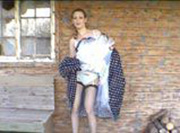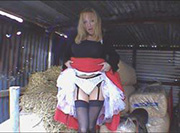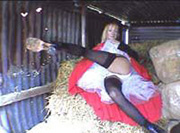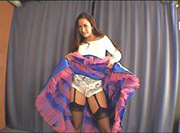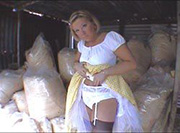 DVD No.15 The Petticoat Special No.3. 2003. Left to right Angelica x 2 in woods near her home, Jessie x 2 outside the shack, Sarah Louise
x 2 on the farm dressed in bright red, Charlie in a studio swishing her cancan skirt around and Kirsty in a gingham skirt at the goat barns.

---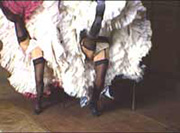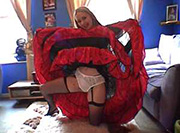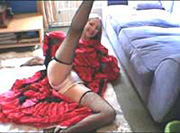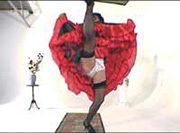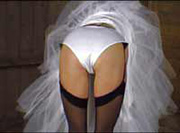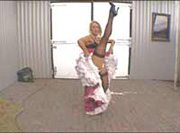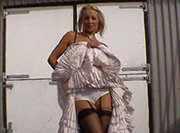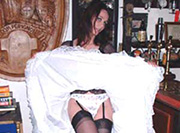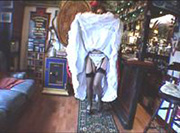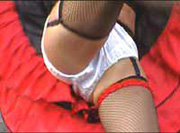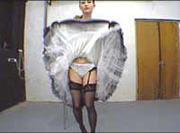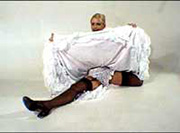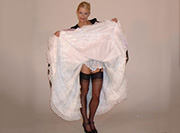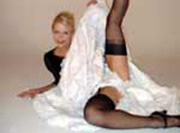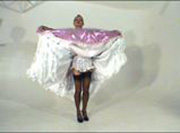 DVD No.16 The Cancan Special No.1. 2003. Left to right Wendy Jayne & Sammi, Chanta Rose x 2, Susanna, Sarah Louise, Lois x 2,
Diana x 2, Robyn, Jessie and finally the sensational Stephanie x 4
---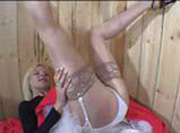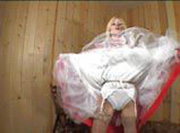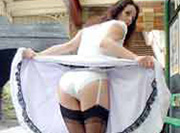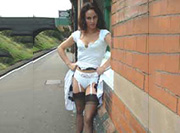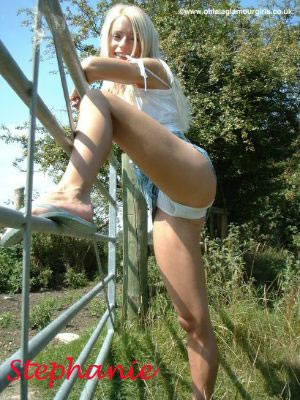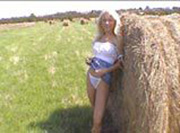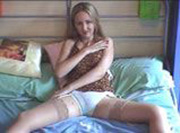 DVD No.17. 2003. Left to right Bridie in frills in a barn, Diana in a classic sequence at a railway station, Stephanie in the countryside in
a mini skirt without stockings and finally Chanta Rose in her bedroom.

---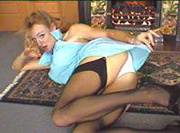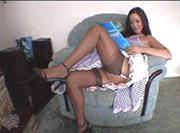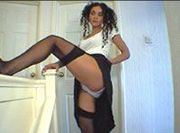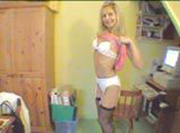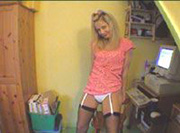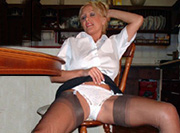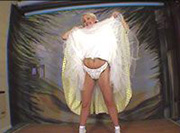 DVD No.18. 2003. Left to right Sarah Louise x 2 lounging by the fire, Charlie in a frilly gingham skirt, Robyn teasin in pleated skirt on the
stairs, Sandy x 2 lifts her pink dress right up over her bra. Very brazen, Finally Wendy Jayne at the table then a short dance sequence in
ankle socks and frill skirts.


---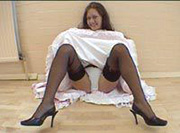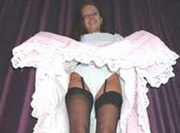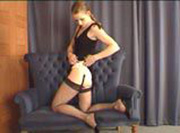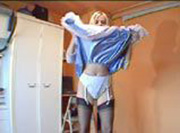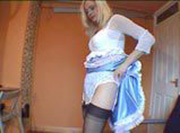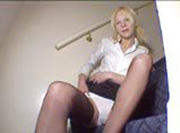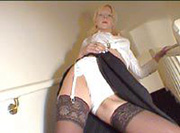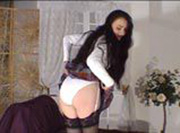 DVD No.19. 2003. Left to right Rachel x 2 in petticoats performing in the village hall, Jessie warms herself by the fireside, Angelica x 2 in a
short, flouncy frilly skirt, Bridie x 2 sexy stuff on the stairs and finally Susanna in a kilt, which spends much of it's time up. revealing lacy
white panties.
---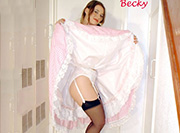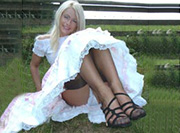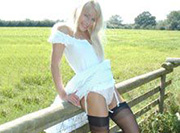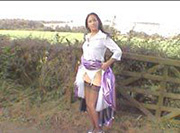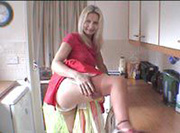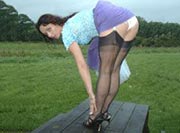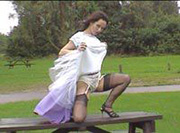 DVD No.20. Petticoat Special No.4. 2003. Left to right Becky frilling us in the hallway, Stephanie in a fab set in the countryside, Charlie in a satin purple skirt
and petticoats also in the country, Sandy in a red dress at home and finally Diana in a frilly skirt on a stormy day at Carsington reservoir.